RE7 would like to congratulate Dave Proctor on a new Canadian Record during the World 24 hour Championships in Turin – running 257 KM in 24 hours (the old record was 242)! In Dave's own words:
"It was 8:30am on April 12th. I was representing Canada at the IAU World 24hr championships in Turin Italy. With 90 minutes remaining in the race I was in 6th place and had just surpassed the Canadian record that has been unbroken for 25 years. With increasing speed I grab my 16th RE7 of the day and head back on the course.
Now if I can just step back for a bit and introduce myself. My name is Dave Proctor and I am a father of three, a loving husband, a massage therapist and the 2013-14 Canadian 100K champion and the new 24-hour Canadian record holder. RE7 came into my life about two years ago when a friend suggested I try it. With trepidation I did and I haven't looked back since. Ultra marathoning has three major components: first is BIG fitness, second is the mind/body game and third is the war against depletion.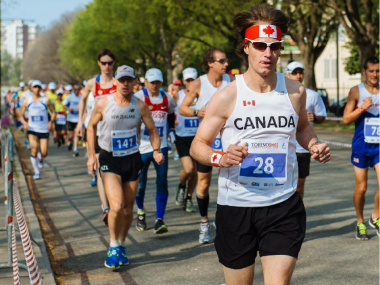 Historically most runners have stayed on top of water, caloric, carbohydrate and protein intake completely ignoring the importance of maintaining the ever so important vitamins and minerals lost during extreme physical exertion. A friend asked me why I donate just take a multivitamin to which I responded that not all vitamins and minerals are created equal and that RE7 is specifically formulated with an athletes need in mind. A multivitamin is kind of like taking a moped to a Nascar track. My dietitian was specifically interested in folic acid, pantothenic acid, B6 and B12 loading and thought it an extreme advantage to be taken during races.
An average week would see me run 140-200K and coupled with a busy work schedule and raising three monkeys, it's difficult to take in the right amount of nutrients as to wake up the next day feeling recovered and ready to go. Food is tricky as I struggle to take in as much as I put out but the easy part is dropping an RE7 per day. I then feel confident that I am staying on top of the nutrient bleed that so often happens with the recovery mechanism.
I am not a doctor, scientist or nutritionist but I am an elite ultra marathoner that has developed the ability to know exactly what my body needs. The longer the run, the finer the margin of error becomes. The balancing act of vitamin, mineral, nutrient, fuel and hydration will be the factors ultimately deciding your fate. I know it because I live it.
During the final 90 minutes there was a lot of carnage in Turin. Some of the worlds best runners succumbed to slumping bodies and bobbing heads and some laid up in medical tents. Drinking my last RE7 I surged forward trying to increase the Canadian record as far as my legs would take me. The finishing gun sounded at 10:00 am. I collapsed in an exhausted heap after running 257.093K, equaling over 6 marathons. I laid there knowing I won the war against depletion that day in Turin."